Tim Rice and Andrew Lloyd Webber's musical spectacular is in Dublin this month.
Fresh from its acclaimed run at the London Palladium, 'Joseph and the Amazing Technicolour Dreamcoat' is set to thrill Irish audiences over three weeks at Dublin's Bord Gais Energy Theatre from Tuesday, August 9 until Saturday, August 27 2022.
Starring Jac Yarrow as Dreamcoat-wearing Joseph and Linzi Hateley as the Narrator of the musical production, the iconic show follows the story of Jacob's favourite son Joseph who was sold into hardship by his eleven jealous brothers.
Ending himself up in jail, the young man discovers he has the ability to interpret dreams and soon finds himself in front of the mighty Pharaoh.
Striving to resolve Egypt's famine, he becomes Pharaoh's right-hand man and eventually reunites with his family with plenty of toe-tapping numbers along the way.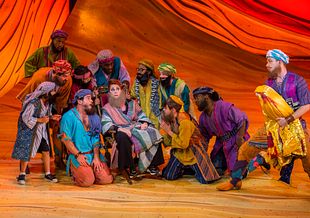 The huge ensemble cast will be singing and dancing to all of the musical's hit songs including 'Any Dream Will Do' and 'Close Every Door', with music and lyrics from frequent collaborators Andrew Lloyd Webber and Tim Rice.
This 'Joseph and the Amazing Technicolour Dreamcoat' production sees Linzi Hateley reprise her role as the scene-stealing Narrator, having first starred in the 1991 production opposite Jason Donovan and Phillip Schofield at the London Palladium, which she received an Olivier Award nomination for Best Actress in a Musical.
Her Welsh co-star Jac Yarrow caused a sensation when he made his professional stage debut playing Joseph, and his portrayal also secured him an Olivier Award nomination. The late Stephen Gately famously took on the role of Joseph during the early 2000s run of the production.
In anticipation of the spectacle taking over Dublin this month, we're running a very special competition with a chance to win a family pass of four tickets to see the show on Wednesday, August 10. To be in with a chance of winning, head over to the competition here.
Tickets for 'Joseph and the Amazing Technicolour Dreamcoat' are priced from €21.00 and are on sale through Ticketmaster.