The Workman's Club in Dublin has been around for 10 (plus 2) years now, and it wants to finally celebrate with some cracking FREE live gigs.
The bar and venue announced today that in celebration it will be hosting 10 free gigs featuring multiple artists.
The gigs will take place from August 4, with the final night on August 26. After each gig, punters can stick around for live DJ performances into the night.
The artists featuring are: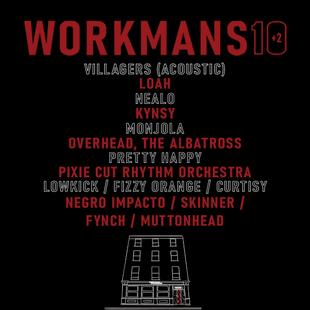 KYNSY - Thursday, 4
Kynsy is the solo project of Irish multi-instrumentalist, songwriter and producer Ciara Lindsey. Come check out her synth-drenched vibes in the Main Room on Thursday. Link here.
VILLAGERS - Sunday 7
Missed their sold out Iveagh Gardens show last week? Fear not, catch the incredible Villagers in the Main venue on Sunday. Link here.
OVERHEAD, THE ALBATROSS - Thursday 11
O,TA are a five piece instrumental outfit revered for their intricate, powerful melodies and energetic stage presence. Their sound combines a multitude of instruments which go beyond the normal boundaries of "post-rock" and delve into the realm of the cinematic. Link here
MONJOLA - Friday, 12
Monjola, the uber talented alt-R&B multi-instrumentalist brings a slew of deadly tunes to the Main Room on Friday. Link here.
LOAH - Saturday, 13
Loah is a seriously talented purveyor of Afro-folksoul. Her star is absolutely on the rise. Check her out in the Cellar venue on Saturday. Link here.
PIXIE CUT  / RHYTHM ORCHESTRA - Sunday, 14
Influenced by indie and grunge, with quick-witted and intimate songwriting, PCRO strike a perfect balance between irony and sincerity. Get in and catch this trio on Sunday. Link here.
NEALO - Thursday, 18
Acclaimed hip hop artist influenced by Jazz Rap, Conscious Rap and R&B, Nealo hits the Main Room on Thursday. Link here.
NEGRO IMPACTO / SKINNER / FYNCH / MUTTONHEAD - Thursday, 18
Catch alt neo-soul from Negro Impacto, post-punk from Skinner, hip-hop from Fynch and alt hip-hop and rap from Muttonhead FKA Sick Nanley on Mon. Link here
PRETTY HAPPY - Saturday, 20
Art-Punk three-piece from Ireland, drawing on a rebellious tradition of Cork Post-Punk, the band has sculpted their own theatre influenced, all-consuming noise rock sound and you can come see what they got on Saturday. Link here
LOWKICK  / FIZZY ORANGE / CURTISY - Friday, 26
Expect rap, jazz and lo-fi beats from Lowkick, soul pop from Fizzy Orange and hip hop from Curtisy on Friday. Link here.
Stick yourself down on the list and enjoy ten years of The Workman's this August!