Don't make a sound; 'A Quiet Place' is coming to a game console near you.
Coming in 2022, the game will be published by Saber Interactive, creators of the recent 'World War Z' video game and the upcoming 'Evil Dead: The Game'.
"The first official video game set in the terrifying A Quiet Place universe will deliver an original story and gameplay that captures the compelling suspense, emotion and drama for which the series is famous," Saber Interactive said.
Details are scant on gameplay and screenshots, but the developers say "The 'A Quiet Place' video game will let fans experience the tension of the films with a level of immersion they've never felt before."
"The amazing success of the 'A Quiet Place' movies makes it clear audiences are hungry for more adventures in this universe," said Todd Hollenshead, Head of Publishing at Saber Interactive.
The game is confirmed to be a single-player and story-driven horror adventure game.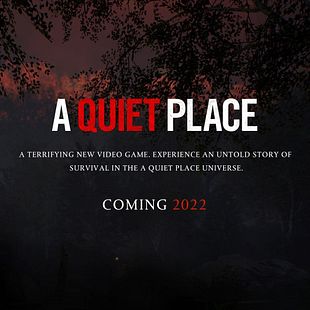 While there is no word of involvement of the people behind or in front of the cameras for the video game, it's certain to be a tense experience - picture something like 'Alien: Isolation' where you must sneak around and try to avoid making noise.
The game is being developed by Canadian developer Illogika, who are made up of former Ubisoft employees that worked on the likes of 'Rainbow Six' and 'Far Cry' games.
A surprise hit upon release in April 2018, 'A Quiet Place' established John Krasinski as a horror director, with the film grossing well over $350 million dollars and even secured an Oscar nomination for Sound Editing for its troubles.
The sequel 'A Quiet Place: Part II' was famously delayed due to the Covid-19 pandemic but the wait was worth it, as we gave it four stars in our review, and the film has grossed nearly $300 million dollars to date.