The 10 Best Movies of 2022
As we enter the final days of 2022 and the best of lists begin to make their way online, we feel we can make some judgment calls on the state of cinemas - first, they're overflowing with movies, so much so in fact that a good number of the movies on this list came and went for at best three weeks. Out of the list, 'Top Gun: Maverick' and 'Elvis' held on for a substantial period, while the likes of 'Moonage Daydream', 'Aftersun' and 'Glass Onion' came and went like a fart in the wind. In fact, 'Glass Onion' - a movie completely suited for a packed cinema - had just a single week in cinemas before it was driven out to wait for the afterlife of Netflix's library.
Next is a little trickier. Cinemas are either out the door with audiences or utterly emptied out of audiences. Whichever the case may truly be, one thing is undisputed - some of the most interesting movies in years have made their way through cinemas in 2022. There's been a deluge of documentaries, and an avalanche of animated movies, and on top of all that, there's been some damn fine blockbusters on top of it all.
Whether or not cinemas will enjoy such abundance in 2023 remains to be seen. For one, the Marvel Cinematic Universe seems to be in a flop era - not in terms of box office, but rather Phase Four has become Phase Chore, or even Phase Bore. Over in DC, 'Black Adam' was mercilessly dull, and the confusion over Henry Cavill's tenure as Superman continues on as of writing. James Gunn's only just been handed the arduous task of bringing DC into some kind of cohesion, and Disney appears to have abandoned 'Star Wars' in a cinema setting entirely - what with the critical success of 'Andor', and 'The Mandalorian' entering its third season without signs of stopping.
Yet, for all these headwinds, we're optimistic about cinemas. Distractions in our lives are endless. Our attention is constantly being pulled and dragged in aimless directions. Attention is whittled down to ten-second videos and digestible content served up with algorithmic hollowness. If nothing else, cinemas are the opposite of all this. It's a communal space, with attention focused together on the screen, where everyone in the room experiences it together, not separately. It's true social media. We laugh together, we startle together, we ponder together, we experience it together. That experience, that need, isn't going away.
Here's our 10 best movies of 2022.
10 'Elvis'
Make all the jokes you want about Austin Butler's accents post-'Elvis', but there's something about Baz Luhrmann's outsized, swinging-for-the-fences, the leave-it-all-on-screen approach that is inherently suited to the Memphis Flash. Even in how it approaches Elvis' early days as a superhero origin story meets our cultural landscape, twisting Doja Cat and Britney Spears into rock classics. It goes on too long, it's overly produced, heavily stylised, but it's indisputably Baz Luhrmann's vision for 'Elvis'. In a time of bland biopics, particularly music biopics, that counts for something.
'Banshees of Inisherin' sits uncomfortably with Irish audiences for a number of reasons - in that it either reveals elements of our psyche that we're not comfortable showing to outsiders, or that it revels in them for effect. Either way, it's made a significant impact and that warrants a place on this list. The twin performances of Colin Farrell and Brendan Gleeson are rightfully being praised and angled towards awards prestige. Farrell, in particular, is hitting his stride not as a leading man with all of his looks, but in much more intriguing roles where he's very often working against them. Gleeson, of course, radiates the darkened rage and fury to balance out the comedic tenor of the piece, and the supporting cast - Kerry Condon, in particular - all do marvellous work. Pour one out for the donkey too.
8 'Glass Onion'
How delightfully rare it is to have something good to say about a sequel. Of course, cosy crime is having a moment and is easily disposed to sequels. Rian Johnson reads the room and smartly decides to make 'Glass Onion' all about an awful billionaire terrorising everyone with his bullshit, while sycophantic dipshits draught off him and try to knife each other in the process. Daniel Craig's post-Bond career is looking cheerful and rosy if this is all he gets up to, but it's a damn shame Netflix didn't give this a chance in cinemas and instead yanked it after a week. It's the best kind of Friday night movie - colourful, smart, funny, great recognisable cast, and the kind of movie you'll talk endlessly about afterwards.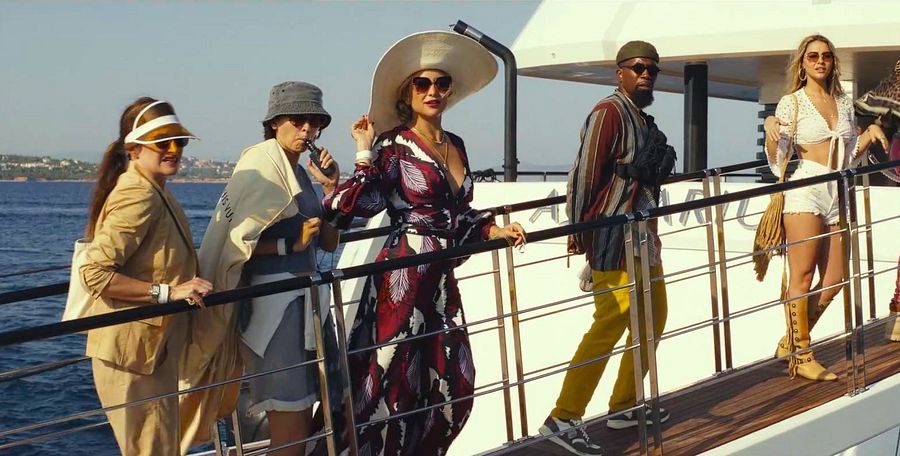 7 'The Batman'
Even though audiences are probably exhausted by comic-book adaptations and caped crusaders too, 'The Batman' still managed to do impressive box office business and take a tired concept and make it worthwhile. Robert Pattinson's inherent weirdness and intensity made him an obvious choice for Batman, but it's in the rogues' gallery we find our stars - Colin Farrell unrecognisable as the Penguin, John Turturro oozing mob sleaze as Carmine Falcone, and Paul Dano turning the Riddler into an incel streamer. Matt Reeves' keen eye for casting served him well in his 'Apes' movies, and is utilised just as well here. The more intimate action beats, the social commentary - it's an honest attempt to examine the character in a way that hasn't really been attempted, and to still make it engaging and entertaining for a mass audience.
6'Aftersun'
Charlotte Wells' haunting journey through memory with Paul Mescal and Frankie Corio has won over award juries and critics alike, and it's all but guaranteed to do business at the likes of the BAFTAs and beyond. Paul Mescal continues to carry the flag forward for North Kildare with his talents, while director Charlotte Wells displays an uncanny amount of poise and confidence for a debut effort. It might not win over all audiences, but when it does, 'Aftersun' is a piece that will latch itself to you for days and weeks afterwards.
5'Everything Everywhere All At Once'
Multiverses might have had their moment, but 'Everything Everywhere All At Once' will stand the test of time. Not for its chaotic blurring of genres, its frenetic blending of action, romance, sci-fi, comedy and family generational drama, but for giving Michelle Yeoh and Ke Huy Quan a chance to showcase their impressive talents on screen again. Quan in particular is enjoying a much-deserved resurgence in interest, while Yeoh's versatility across the movie is equally giving her a moment. That it's being earnestly talked about as a Best Picture contender is heartening. Can the Oscars embrace the weirdness and vitality of genres? Let's hope so.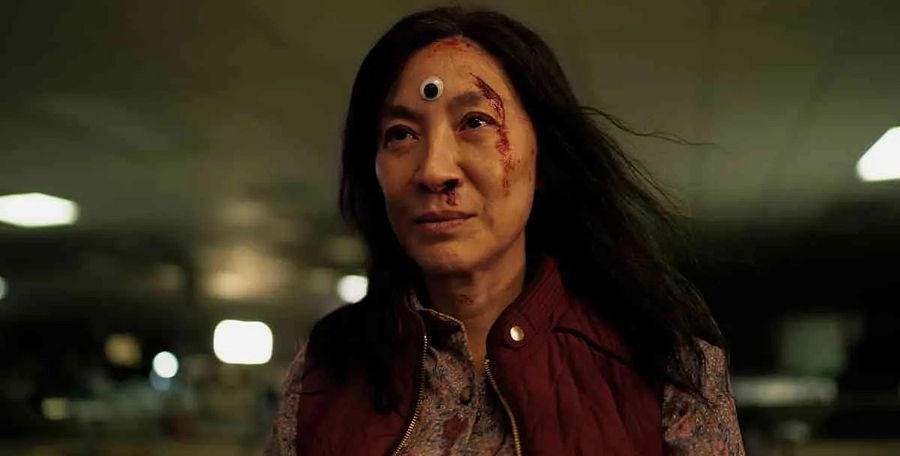 4'Prey'
'Prey' was an absolute blast of entertainment. Sleek, elegant, simple without being silly - it had everything going for it. Why the Mouse House decided not to give it a chance in cinemas is baffling, but nevertheless, it's become one of the few movies we've gone back to more than once this year and found it just as enjoyable as the first time. Amber Midthunder carries the movie on her shoulders, and director Dan Trachtenberg's skilful manipulation of audience expectations delivers some satisfying grisly moments. The unique setting was an added bonus in this taut survival thriller, while the earthy cinematography and moody score just added to the flavour. If you've held off watching this, make the time over Christmas. You won't regret it.
At a time when audiences are being softened by streaming, 'Top Gun: Maverick' was ardently a cinematic experience. You couldn't beat it on a home cinema, no matter how expensive the set-up - because the sheer size of the jets, the music, the emotions, and Tom Cruise's impeccable face being twisted by gravity couldn't be contained on a mere TV. It needed a cinema. It had to be seen to be believed in a cinema. What's more, it felt real in a cinema. Director Joseph Kosinski's commitment to in-camera special effects meant that you were jammed right into the cockpit and strapped in for the ride. Yes, it borrowed liberally from 'Star Wars' - specifically, the Death Star trench run - but when it's done this well, you have to wonder why nobody's been able to get that close since 1977 when 'Top Gun: Maverick' has. Sure, you can probably watch it on your TV now over Christmas, but for anyone who saw it in the cinema, you'll know it's not the same.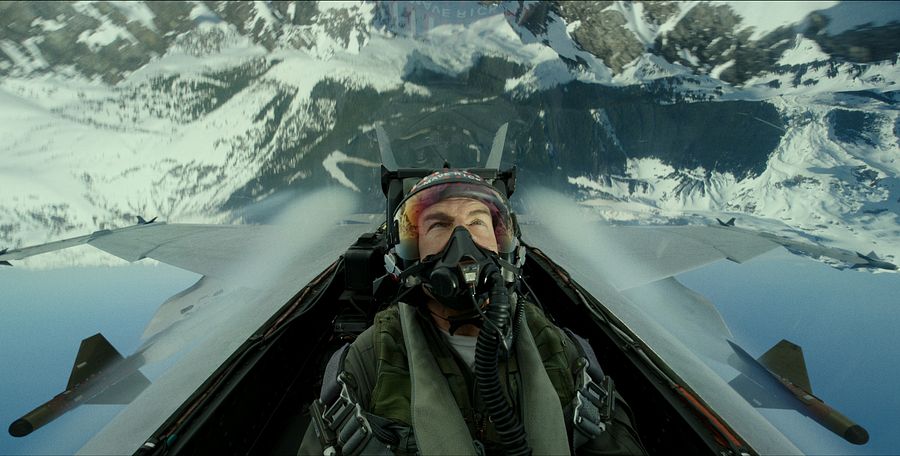 Music documentaries had a moment this year, with two of the best in recent memory getting decent runs in cinema. One was 'Nothing Compares', which features in our Movies You May Have Missed list. 'Moonage Daydream', however, was something else entirely. It's so rare for a documentary to fully dive into the creative forces and drives of its subject, and completely walk around inside their brain. 'Moonage Daydream', much like 'Summer of Soul' last year, pulls you into that world with complete ease and never lets you out until the credits roll. The footage feels bright, alive, and completely unreal. Bowie speaks to his youth as he dances across the screen, chiding himself, then rattles off hits from all his eras, and all of it with the wistful knowledge that he is a fleeting physical presence moving towards immortality in music.
1'An Cailín Ciúin / The Quiet Girl'
That 'An Cailín Ciúin' has become the highest-grossing Irish-language movie of all time, and has a perfect score on Rotten Tomatoes with 42 reviews, should give you some indication of how good it is. It is one of only a small number of movies this year to receive a perfect score from us, but more than that, it has done all this with a remarkably simple story. So often we think movies with the kind of critical accolades that it has need to be some kind of epic or have a sharp complexity to them in order to satisfy all audiences. Not true, not true at all.
'An Cailín Ciúin' is a story of a young girl sent to live with her relatives while her mother gives birth. As the summer rolls on, she grows to become a part of their family and discovers that for all of their idyll, there lies a deep well of grief beneath it that has only begun to recede with her presence. Colm Bairéad's script works with a light touch, while Kate McCullough's cinematography evokes the twilight dream of childhood.
The best works are the ones that are capable of telling deep, emotionally resonant stories with gentle persuasion rather than outsized efforts that push for more and demand more. 'An Cailín Ciúin' is a work of thoughtful elegance and an appreciation for the old maxim that less is more. That's why it's our pick of the best movies of 2022.