Tongue-in-cheek Thor has had his time in the spotlight, but Hemsworth is done with him.
Chris Hemsworth has had enough of comedy Thor and his bumbling bullsh*t, and should he ever return to the character again in the future, he's going to need a different approach to the films.
So far in Marvel's 'Thor' franchise, we've had two pretty bog-standard action movies (directed by Kennet Branagh and then Alan Taylor), followed by a pretty epic and dramatic change in tone with 'Ragnarok' as soon as director Taika Waititi got his hands on the character. However, Waititi's most recent release, 'Love and Thunder', failed to capture the spark of that third outing, going pretty much all-in on the laughs. Judging from fan reaction, it wasn't everyone's favourite Marvel release.
And so, what could be next for the Asgardian God of Thunder? Chris Hemsworth hopes that Thor will come back with a different tone, as he says for his "own sanity" that will be the only way he'd return for more action.
He spoke with Josh Horowitz on the 'Happy Sad Confused' podcast when the topic arose: "You look at 'Thor' one and two, they were quite similar. 'Ragnarok' and 'Love and Thunder' are similar. I think it's about reinventing it. I've had such a unique opportunity with 'Infinity War' and 'Endgame' to do very drastic things with the character. I enjoy that, I like keeping people on their toes. It keeps me on my toes. It keeps me invested.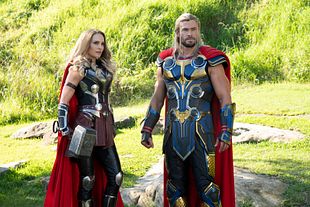 "I've said this before but when it becomes too familiar, I think there's a risk in getting lazy then because I know what I'm doing. I don't know if I'm even invited back, but if I was, I think it would have to be a drastically different version in tone, everything, just for my own sanity… [laughs] Thor lost his mind that last one. He's got to figure it out now."
Thor did indeed lose his mind in 'Thor: Love and Thunder'. Not only did Natalie Portman's Jane Foster return, but Thor's former love also came back with some nifty powers in hand as Mighty Thor - but then the character passed away. How will Thor be feeling after this mix of emotions and how is he getting on with raising his new daughter (played by Hemsworth's real-life daughter India Rose), Love?
While Marvel Studios mulls over what's next for the God of Thunder, Hemsworth will be taking an indefinite break from acting. The 39-year-old found out while filming a new Disney+ docuseries, 'Limitless', that he has a very high risk of developing Alzheimer's disease as he gets older. For now, he's going to spend more time at home with his wife Elsa Pataky and their three children.