A major bit of movie history was made last night - a film produced by a streaming service won the Academy Award for Best Picture.
Despite Netflix spending the GDP of a small nation over the last 5 years, the streaming titan failed to win Best Picture in what was widely anticipated to be the year Netflix finally broke the hoodoo.
The 2021 awards season race was primed for 'The Power Of The Dog' to take home Best Picture but Netflix seemingly has a Mayo GAA curse attached to them.
Despite giving hundreds of millions of dollars to auteurs like Alfonso Cuaron, Martin Scorsese, Noah Baumbach, David Fincher and now Jane Campion, Best Picture has eluded Netflix once again.
Apple claiming the win as the first Best Picture winner for a streaming service will either embolden or deflate Netflix.
What happens next for Netflix is incredibly interesting to watch - will they lick their wounds and go again next year, or resign themselves to always being the bridesmaid?
Apple's streaming service was hobbling along on life support until 'Ted Lasso' changed their fortunes seemingly overnight, and Apple's acquisition of 'Coda' from the Sundance film festival last year proved that they had a shrewd awards season strategy.
In truth, it was a matter of when and not if when it came to a streaming service winning Best Picture.
When 'CODA' was read out of the envelope by Liza Minnelli, it confirmed the biggest will-they-or-won't-they since Sam and Diane.
A streaming service winning Best Picture became a sure-fire thing when Netflix started attracting the likes of Scorsese, Fincher and Cuaron, because as fantastic as these filmmakers are, very few studios will greenlight an auteur-driven film anymore when turning on the superhero movie machine is much more lucrative.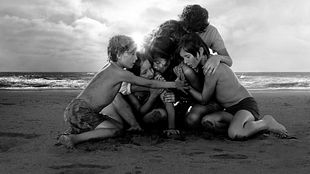 The streaming service has become the refuge of the auteur, similar to how United Artists was founded by Charlie Chaplin to give some of the greatest filmmakers of Code-Era Hollywood free rein and little studio interference.
What is striking about 'CODA' is that the film easily could have been bought by one of the major studios and the film would have been given the traditional autumn release date to build solid word-of-mouth, but Apple cut out the middle man and gave 'CODA' to the masses.
'CODA' is a winning, sweet film that paints a very real topic with gravitas and humility, and with that and 'Sound Of Metal' winning 6 Oscars between them for telling stories of people with hearing problems, this will surely encourage other studios to tackle other topics in hope of Oscar glory.
Of course, we can only hope that future films tackle issues surrounding hearing loss as tactfully as 'CODA'.
2021 revealed that adults don't turn out to the cinema in the droves they used to; films only attract people to cinemas unless it's a film that is a part of a larger franchise.
The occasional adult-orientated film breaks out and becomes a mainstream hit, but those films are becoming few and farther between.
'House Of Gucci' represents this current trend.
A star-driven, glitzy drama by a big director based on an interesting historical event would have been a box office smash - in 2012.
Film studios gamble on these films, and to be clear, they still should be made at a studio level, but the Covid-19 pandemic has thrown up some home truths that Hollywood was not prepared to face.
Audiences will only go to the cinema if there is a fear of the film being spoiled for them online.
In this environment, the streaming services have the home team advantage.
While Apple doesn't release viewing figures, it's can be ascertained that 'CODA' had more eyeballs watching it than other Best Picture nominees like 'Drive My Car', 'West Side Story' or 'Belfast'.
Netflix had other horses in the Best Picture race, and indeed if the awards were held a month earlier perhaps we would be writing about the victory for 'The Power Of The Dog' or 'Don't Look Up', but Apple's method of putting quantity over quality paid dividends in the long run.
The Netflix method of film promotion is down to a fine art.
Netflix aggressively pushes a film for the first 10 days of release and only releases viewing figures when it suits their agenda, and following that, the film becomes buried in the algorithm, which hurts their films more it helps them.
The voting body for Best Picture is the widest voting body in the entire Oscar pool.
Actors can only vote for actors for example, and technical people vote on each other's categories, but Best Picture has a massive voter base.
Every single member of the Academy can vote on Best Picture, and when you consider a large chunk of the Academy is made up of the remnants of the 1970's New Hollywood, it is not hard to imagine they were not amused with how Netflix treats their films by esteemed auteurs.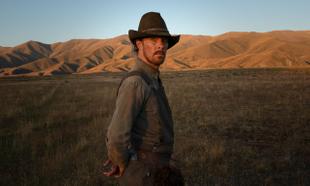 Apple placed 'CODA' front and centre of their streaming service and were incredibly smart and practical with its release - the marketing team did a stellar job in helping spread word of mouth, the film became more widely watched by people, and ultimately, 'CODA' won hearts and minds.
It is disingenuous to dismiss 'CODA' as another populist 'Green Book' style win, as there is more than meets to eye with that film.
'CODA' ran a textbook campaign - debut at Sundance, acquired for a big fee, built up a steady word-of-mouth audience and industry respect, and by the time it started winning precursor awards, the path to Oscar glory seemed obvious.
It is trite to paint Apple of all companies as this underdog company, but it is worth noting they only launched their streaming service in 2019.
Netflix's first original piece of scripted content was all the way back in 2012.
Netflix had the best part of a decade to get a head-start over their rivals in terms of infrastructure and building an awards season campaign, and yet Best Picture eludes them.
In terms of the bigger picture and what this means for Hollywood, there is an obvious immediate answer; a streaming service winning Best Picture represents a new era for Hollywood.
The studio system is now dominated by IP or unwieldy conglomerates, and in that hubris, held onto this belief that the studio system built over 100 years ago was still the kingmaker.
When Netflix failed to win Best Picture in 2019 in the great 'Roma versus Green Book' saga, Steven Spielberg of all people weighed in saying that Netflix films should not be eligible for Oscars.
This defending of the old guard was the final stand of Spielberg, the man who shaped Hollywood in his own image in his younger days, trying to hold onto the power he had.
In June of last year, Spielberg signed a multi-year deal with the company.
The question facing the traditional studio system now is obvious; is it in the business of making money, or is it in the business of winning awards?
10 years ago, this was not a question on people's minds.
In the morning when Apple is now the studio behind the most recent Best Picture winner, it is now a going concern.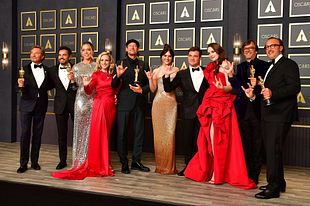 The victory of 'CODA' was a long time coming, and if it wasn't that film, 'Power Of The Dog' would have won.
2022 was going to be the year that a film by a streaming service would win Best Picture, and it came down to a coin flip or which film would prevail.
The virtue that this year's Best Picture winner was never seen in cinemas by the vast majority of people who watched it confirms where Hollywood has been going for the last decade.
The blockbuster will still play in the local multiplex, but the awards season favourite will remain at home.
In this case, the revolution will be televised.