Legendary actor Gary Oldman has hinted that his retirement from acting isn't too far away in a recent interview.
Known for his intensity on screen, Oldman is predominantly known for roles like Count Dracula in 'Bram Stoker's Dracula', Sirius Black in the 'Harry Potter' series and Detective Jim Gordon in Cristopher Nolan's 'Batman' films.
The 64-year-old is currently starring in the Apple TV+ show 'Slow Horses' as Jackson Lamb, the leader of a group of dysfunctional MI5 agents who stumble into a national emergency.
Season one of the series has just finished. However, it was filmed back to back with season two, so we should see a return very soon.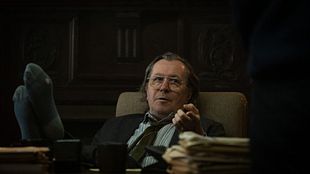 Speaking to Deadline, Oldman said, "It's up to all the big people upstairs and the audience and the obviously the viewership and what Apple what they say. But, yeah, I could see myself playing Jackson for the next how many years, yeah."
He added, "For those that love the books and that were Mick Herron devotees as it were, he is already an iconic character. So, if it were to go out with a bang, I mean, retirement is on the horizon. Yeah. I can see it."
He called playing the Lamb "refreshing" as it didn't require prosthetics or accent training. "I just turned 64 and I think perhaps my days of sitting in a makeup chair for hours have come to an end."
Despite his talk of retirement, Oldman seemed very content to play his current character for the long run.
"There's always something that may come in, and you know, get the taste buds going but I'd be thrilled and honored to play him for the foreseeable future."
The English actor will also feature in the upcoming Cristopher Nolan film 'Oppenheimer'. Oldman starred as detective Jim Gordan for all three of Nolan's 'Batman' films. 'Oppenheimer' is set for a 2023 release. Let's hope it's not the last time we see Oldman on the big screen.
Season one of 'Slow Horses' is available to stream on Apple TV+ now.