Two stars of the big screen are uniting.
Will Smith, Oscar-tipped for 'King Richard', and Michael B. Jordan, star of films such as 'Black Panther' and the 'Creed' films, are pairing up for a sequel to 'I Am Legend'.
Smith of course starred in the 2007 original which proved to be a major hit, and saw Will Smith wander the streets of an empty New York after a devastating virus outbreak.
In the film, the virus killed the vast majority of the world's population, with the remaining people turned into vampire-like mutants.
The film was a hit for Smith, making $585 million dollars at the global box office.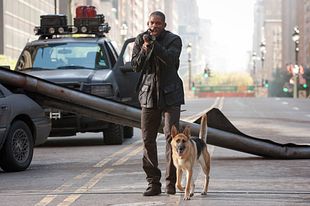 The new film will be a direct sequel to the original, with Smith co-producing and returning to his role as Dr. Robert Neville, and Michael B. Jordan serving as his co-star and producing partner.
Considering (spoiler alert!) Will Smith's character dies at the end of the first film, it remains to be seen how Smith will return, with the possibility of a flashbacks or Smith appearing in dream form being floated with Michael B. Jordan picking up where Smith left off.
Original screenwriter Akiva Goldsman will return to write the screenplay for the film, which is still in the planning process and as such, doesn't have a director or release date announced.
Smith is tipped to take home an Oscar for his role in 'King Richard' later this month, while Michael B. Jordan is preparing to step into the director's chair for 'Creed 3'.
The combined might of Will Smith and Michael B. Jordan at the box office sits at over $12 billion dollars, making a sequel to one of Smith's most beloved films a no-brainer.
'I Am Legend' is based on the 1954 novel of the same name, and was the basis for the 1964 Vincent Price film 'The Last Man On Earth' and the 1971 Charlton Heston film 'The Omega Man'.
As stated, no word on a release date for this one yet, but with two big stars attached, the film should come together quickly.