Michael Keaton and Jack Nicholson made for a memorable pairing as Batman and The Joker in Tim Burton's 1989 hit 'Batman', and Keaton recalls a choice piece of advice the legendary Oscar winner gave him while making the film.
Keaton recalled an encounter with Nicholson when making 'Batman' where the 3-time Oscar winner told Keaton he could "go out and make four or five flops" if 'Batman' was a hit.
"So, we're in the car and he's talking about the movie. And we all knew it was a huge risk, and if it goes down, I'd going down in flames and that's going to be a big, hard recovery."
"But I also knew if it worked, it could change my landscape," Keaton continued.
"So Jack says, 'Keats, if this thing's a hit, you can go out and do four or five flops and not even worry about it.' And maybe it wasn't four or five, but it used to be you got away with three and it didn't matter."
Keaton is currently in the Emmy race for his performance in the hit series 'Dopesick', and discussed his experiences in a roundtable with other Emmy-contending actors such as Oscar Isaac, Brian Cox, Samuel L Jackson and Tom Hiddleston.
Keaton said that the industry landscape that Nicholson told him about simply didn't exist anymore, and actors, even those on Keaton's level, couldn't rest on their laurels.
Asked if that same advice applied today, the star said "not now, man."
"You've got one miss, which is f***ed up."
Over the course of the conversation, Keaton said that actors couldn't simply "cruise" and make a flop like in the 'Batman' era.
"You get there and the work's the same, man. Even if you're going to do a 15-second ad for Vaseline, you say, 'OK, man, I'm all in,'"
"Because for that minute, I don't know how to not be all in, not because I'm so f***ing groovy, because I probably have a fear of lying down, of going, 'Well, don't be a dick. Do the work.' You know what I mean? Every time I think I'm going to cruise on this one, I can't. You can fight it all you want, but it's in you somewhere."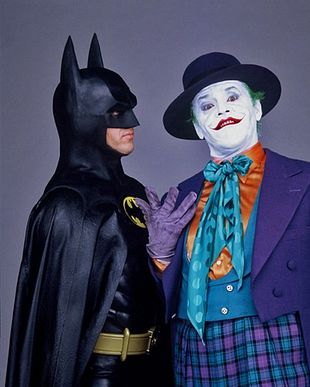 Nicholson's words stuck with Keaton, and the 'Birdman' star said he recently gave advice to 'Barry' star Bill Hader.
Keaton said he opted for a "career pause" at the height of his A-list days in the 1990s to raise his family, and urged Hader to do the same.
"I thought, 'Man, if I lose money, I'm good with it,'" Keaton said of turning down projects.
"I was having this conversation with Bill Hader the other day, he was going through something and I said, 'Dude, trust me. Hang out with your kids as much as you can for as long as you can. You will never regret it. You're going to lose some jobs. It's OK. In the long run, that's the thing that matters."
Keaton is tipped to win an Emmy for his role in 'Dopesick' at this year's Emmy awards, which will take place this September.
The 'Spotlight' and 'Beetlejuice' star will be returning to his iconic role as Batman in upcoming superhero movie 'The Flash', which is due for release in 2023.