"There's been a murder." It's a line that means drama, suspense, and mystery – elements of storytelling that are simply irresistible.
There's something happening in the zeitgeist right now where murder mysteries are everywhere you turn.
It began, one could argue, with podcasts, with 'West Cork', 'Suspect', 'Serial', and 'Over My Dead Body' being just some true crime murder mysteries that have had listeners hooked.
They couldn't get enough of podcast hosts taking on the case, investigating who, what, where, when and how.
This is, after all, a major part for why the public are so attracted to murder mysteries.
Where they can't wield official authority, as professional detectives and investigators, they draw on their own initiative, knowledge and intuition to solve the case.
There's an addictive puzzle solving element to murder mysteries - and nothing beats the satisfaction of that "Eureka!" moment.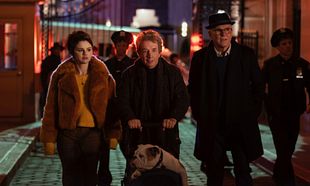 The fact that we're seeing whodunits across film and television, as well as podcasts, is testament to just how addictive and satisfying such narratives are.
The past year has seen the release of shows like 'The Afterparty' on Apple TV+, and 'Only Murders in the Building' on Disney+.
Both revolve around individuals investigating murder mysteries - with comedic results too.
Netflix shows and movies that revolve around murder mysteries include the improv/parody series 'Murderville', Millie Bobby Brown's 'Enola Holmes', and Adam Sandler starrer 'Murder Mystery'.
The latter two have gotten the green light for sequels - because viewers are ready and eager to come back for more.
Ditto can be said for big-screen hits like 'Knives Out' and 'Death on the Nile', a sequel which makes its way to the big screen following the box office smash 'Murder on the Orient Express'.
'Death on the Nile' is the second murder mystery taken on by Kenneth Branagh (both in the director's seat, and taking on the lead role), when it comes to adapting Agatha Christie's hero detective Hercule Poirot for the big screen.
The movie features an all-star cast which aside from Branagh, includes Gal Gadot, Russell Brand, Annette Bening, Dawn French, Tom Bateman, Ali Fazal, Rose Leslie, Sophie Okonedo, Jennifer Saunders, Letitia Wright, and Emma Mackey.
Branagh's Poirot is on vacation in Egypt, when he is invited onto the S.S. Karnak to celebrate a newly wed couple with their family and friends.
When one of the passengers is murdered. it is left to Poirot to solve the case.
But which guilty, world-renowned face will he point to as guilty of muuurderrrr...?
'Death on the Nile' opens exclusively in cinemas on Friday, 11 February. See where it's showing in cinemas here.