'CODA' was the big success story of the night, with the film becoming the first film by a streaming service to win Best Picture.
The Apple film enjoyed a fairytale run after debuting at the Sundance Film Festival in January 2021, marking the first time a film from the Utah-based film festival scooped Best Picture.
The deaf-themed film scooped Best Picture from front-runner 'The Power Of The Dog', and the film also made history for its award for star Troy Kotsur.
Kotsur won the award for Best Supporting Actor, and the actor made history as the first male deaf actor to win an Oscar.
His co-star in 'Coda', Marlee Maitlin famously won the award for Best Actress In A Leading Role in 1987 for her performance in 'Children Of A Lesser God'.
'Coda' also became the first Best Picture winner to triumph with less than four nominations since 'Grand Hotel' all the way back in 1932.
'West Side Story' star Ariana DeBose became the first openly queer actress to win an Oscar, saying in her speech "To anyone who questions your identity, or you find yourself living in grey spaces, I promise you this, there is a place for us."
DeBose's win for playing Anita in Steven Spielberg's musical remake marked the first time two different actresses won Oscars for playing the same character, with DeBose playing the role made famous by Rita Moreno in the 1961 film.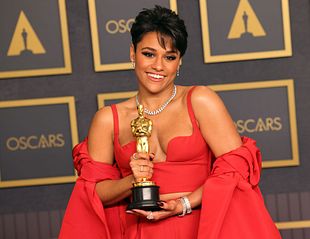 The character of Anita joins a very select club of actors winning Oscars for playing the same character, with only the characters of Joker and Don Corleone the other characters multiple actors have won Oscars for playing.
'The Power Of The Dog' director Jane Campion made history as her win for Best Director made it the first time that women won that category in consecutive years.
Chloe Zhao won the award last year for 'Nomadland'.
'The Power Of The Dog' also pulled off a unique, albeit unwanted Oscar record: it became the first film since 'The Graduate' to win Best Director and no other award on Oscar night.
Riz Ahmed also became the first Muslim and first person of Asian descent to win live-action short for 'The Long Goodbye'.
"This is for everyone who feels like they don't belong," he said in his speech, adding "anyone who feels like they're stuck in no man's land - you're not alone."