Bella Ramsey stars as the titular Birdy in this delightful yet slightly try-hard take on the 1994 novel of the same name.
Written and directed by 'Girls' creator Lena Dunham 'Catherine Called Birdy' follows the story of a 14 year old girl in medieval England as she navigates through life and avoiding potential suitors her father has in mind.
The father in question - played with wonderful erraticism by Andrew Scott - is Lord Rollo of Stonebridge and, despite his title, is quickly running out of funds. In his desperation to keep the cash flowing and support his lavish lifestyle, as well as his pregnant wife Aislinn (Billie Piper), Rollo reverts to pawning Birdy off to any affluent suiter that comes looking for marriage.
And here lies the central story. Birdy, only 14, has zero interest in being sold off to the highest bidder. She's far more interested in spending her days rolling in muck, playing tricks on local villagers and generally just being a kid with her friends.
Ramsey absolutely shines in the titular role, and her mischievous and playful behaviour takes over every scene. This should come as no surprise to anyone who has watched her debut performance in 'Game of Thrones' as Lyanna Mormont. The 19-year-old has a magnetic screen presence which is on full show here, making her perfect for the role.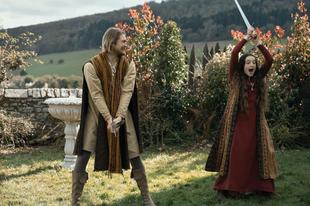 However, Ramsey's likeability can sometimes paper over the cracks of a film which makes some questionable choices.
Issues arise with Dunham's obsession with making a story set in 1290 as contemporary as possible. There's soft pop covers flowing throughout scenes, winks and nods to camera that seem straight out of 'Fleabag', and the medieval theme is far more style over historical accuracy.
The story itself also reveals problems, including the whiplash this writer got from some of the character decisions, specifically toward the end of the film that I won't mention to avoid spoilers. Birdy's oddly romantic endearment towards her Crusades-surviving uncle (Joe Alwin) was also a peculiar route to go down considering this is a coming-of-age comedy and not a HBO fantasy show.
Uncle-fancying aside, 'Catherine Called Birdy' is quite a fun watch throughout, and that's mostly owing to the cast. While Ramsey steals the spotlight, the supporting cast do a hell of a job of shaping Birdy's wider family.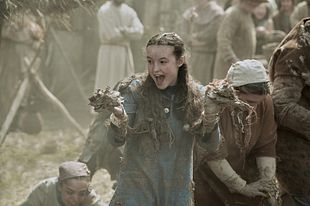 The warmth of Birdy's beloved maid Morwenna (Lesley Sharp) and her relationship with her best friends Perkin (Michael Wooflitt) and Aelis (Isis Hainsworth) are all standouts. The comedic chops of 'Game of Thrones' alumni Paul Kaye, David Bradley, Ralf Ineson and Dean Thomas-Chapman also also pad out scenes to brilliant effect.
Dunham may be a divisive figure, to say the least. But as director, writer and producer on this film, credit must go to how she managed to create a script which, despite some issues, allowed Ramsey and pretty much every supporting cast-member shine throughout the film.
'Catherine Called Birdy' may try a little too hard to cram in some modern relevancy and the story can be questioned in parts. But Bella Ramsey and her brilliant supporting cast fill in any pitfalls with aplomb in what is ultimately a charming coming-of-age story.
'Catherine Called Birdy' releases on Prime Video on Friday, October 7.