Kit Harington doing an Irish accent? Jack Reynor with a moustache? Train journeys on IrishRail? We need to sit down after watching this.
Kit Harington, Jack Reynor, Lucy Boynton, and Miranda Richardson will star in the Irish-set episode of 'Modern Love' season two. Check out the trailer of the return of the Amazon Prime series below.
Irish film director John Carney served as showrunner on the series, while also multitasking as writer, director and executive producer. A continuation of the first season of the romance anthology, all of the stories are inspired by true events from the beloved New York Times column of the same name. Andrew Rannells also directed an episode this season, which was based upon a personal essay that he penned for the column.
Promising to be another season filled with love, heartbreak, and missed opportunities, love, in this season, apparently breaks all the rules. One episode will see an old flame be reignited; another will be a test of friends vs. lovers; a one night stand will appear; while another will be a coming-of-age exploration of sexuality.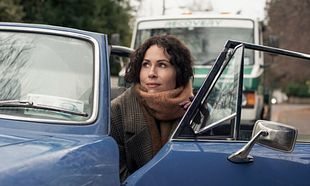 Also starring the 'Modern Love' season two will be Minnie Driver, Anna Paquin, Gbenga Akinnagbe, Tom Burke, Zoë Chao, Grace Edwards, Dominique Fishback, Garrett Hedlund, Tobias Menzies, Sophie Okonedo, Zane Pais, Isaac Powell, Marquis Rodriguez, and Lulu Wilson.
Similar to season one which starred Tina Fey, Anne Hathaway, Dev Patel, and Andrew Scott, season two will be made up of eight episodes all about relationships, connections, betrayals and revelations.
Here's the trailer.
'Modern Love' season two premieres on Amazon Prime on Friday, August 13.