*Warning* - look away if you haven't already seen the final episode of season two.
The sleuthing trio from 'Only Murders in the Building' have solved who the killer is for a second time, in an elaborate reveal that kept us guessing all the way past those other two red herrings that crossed our path.
Nope, it wasn't Tina Fey's Cinda Canning, nor was it Cara Delevingne's Alice who murdered Bunny Folger. In fact, it was the most unsuspecting person of them all - Cinda's assistant, Poppy White, played by Adina Verson.
According to an interview with Entertainment Weekly, the actor kept her murderous spree completely hidden from everyone who didn't need to know, which included the main cast of Martin Short and Selena Gomez; it turns out that they didn't find out it was Poppy until filming the final episode of the season, 'I Know Who Did It'.
She told the publication: "It was a big surprise when I first got to set and I realized that nobody else knew. I just assumed that other people would know, but nobody knew.
"It wasn't until we shot the passageway scene in episode four — where I sneeze and see Lucy — that was actually me filming that scene, and I came down to set wearing the suit and holding the ski mask. The crew members were all like, 'Oh my gosh, wait a minute. Is it Poppy?' So then they were all in on the secret. That was fun, as I went along with different episodes to have the crew know, but they still kept their mouths shut. Selena and Martin didn't know until they got the script for episode 10."
Steve Martin, of course, would have been in the know on the season two 'Only Murders in the Building' killer as he's the co-creator. it's surprising though that Martin and Selena were left in the dark, given that they both have executive producer credits attached to the series.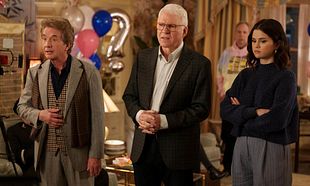 Adina Verson also said that the secondary cast members were left in the dark, only finding out as the reveal scene was being shot: "And people were really surprised that Poppy was the killer! I think that maybe some of the actors didn't get the full script... I don't know why, but people were still confused while we were shooting it.
"They were like, 'Oh, it's Alice.' I was like, 'Wait, no, have you read the next few pages?' Poppy got to be revealed in front of the whole cast just doing the scene."
As for season three, could Poppy be back once again, even though she's locked up behind bars? If Amy Ryan's Jan from season one can do it, then why not? Adina said: "I hope so. Nothing has been confirmed. If I don't go back I'm really going to miss it, but I am going to be excited to be able to be a viewer not knowing what's going to happen.
"I know that they're writing season three right now, and I definitely dropped some hints and some ideas that I had for how Becky might be able to fit into that because I would love to see how prison treats her."
Speaking of season three, showrunner John Hoffman told The Hollywood Reporter about his plans for the next edition of the incredibly popular whodunnit. Expect plenty more theatrical elements to come into play: "I would only say this show has always had a touch of theatricality to the way it tells its stories. If season one was a little more focused on the emotional storyline for Mabel and Tim Kono, and season two was a little more emotionally connected to Charles and his relationship with his father and himself, I'm very excited to both lean into the theatrical side of New York City and also into Oliver and his world."
Do you love 'OMITB'? And do you want to win a cute tie-dye hoodie plus many more goodies from the show? We're running a competition until September 6 which you can enter here.
Watch seasons one and two of 'Only Murders in the Building' on Disney+.