Kurtwood Smith and Debra Jo Rupp are back two decades later to shape the growing minds of their teenage granddaughter and her new group of friends.
Hello Wisconsin! Netflix has dropped a dope teaser trailer for 'That '90s Show', their upcoming sequel series to the super popular sitcom 'That '70s Show'.
Introducing us to a brand new group of teens at Point Place, the series will centre on Leia Forman, the daughter of Eric and Donna, while she stays with her oddball grandparents during a summer vacation in the mid-1990s.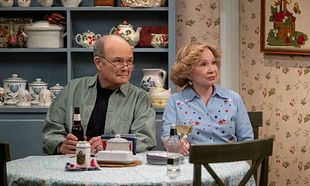 Now, while we didn't get to see any of the returning cast members except for Kurtwood Smith and Debra Jo Rupp as Red and Kitty Forman, we did get to briefly see the new youngsters exploring the iconic downstairs basement (i.e. their weed circle).
Callie Haverda, Ashley Aufderheide, Mace Coronel, Maxwell Donovan, Reyn Doi, and Sam Morelos will be playing this generation's version of the teenagers, but some more original cast members are also set to make cameo appearances too. The OG teens played by Topher Grace, Laura Prepon, Ashton Kutcher, Mila Kunis and Wilmer Valderrama will feature in a very small capacity during the 10 episodes.
The official synopsis of the series is as follows: It's 1995 and Leia Forman, daughter of Eric and Donna, is visiting her grandparents for the summer, where she bonds with a new generation of Point Place kids under the watchful eye of Kitty and the stern glare of Red.
Here's the 'That '90s Show' trailer for the new series, which we're happy to report features a pretty cranky Red and an ever-chipper Kitty.
'That '90s Show' hits Netflix on January 19, 2023.