search for anything!
e.g. Barbie
or maybe 'Ashoka'
Dune: Part Two
Paul Mescal
search for anything!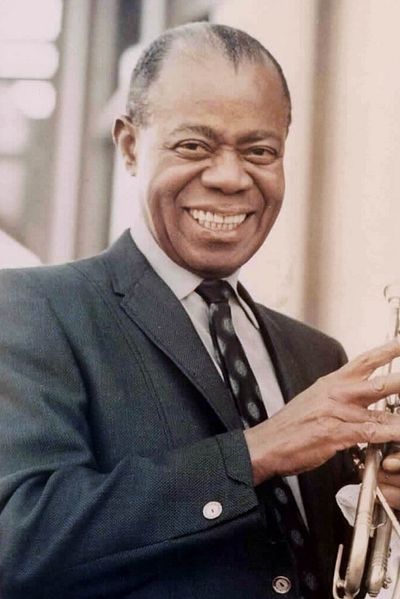 Louis Armstrong
Actor
​From Wikipedia, the free encyclopedia.
Louis Daniel Armstrong  (August 4, 1901 – July 6, 1971), nicknamed Satchmo or Pops, was an American jazz trumpeter and singer from New Orleans, Louisiana.
Coming to prominence in the 1920s as an "inventive" cornet and trumpet player, Armstrong was a foundational influence in jazz, shifting the music's focus from collective improvisation to solo performance.
With his instantly recognizable deep and distinctive gravelly voice, Armstrong was also an influential singer, demonstrating great dexterity as an improviser, bending the lyrics and melody of a song for expressive purposes. He was also greatly skilled at scat singing, vocalizing using sounds and syllables instead of actual lyrics.
Renowned for his charismatic stage presence and voice almost as much as for his trumpet-playing, Armstrong's influence extends well beyond jazz music, and by the end of his career in the 1960s, he was widely regarded as a profound influence on popular music in general.
Armstrong was one of the first truly popular African-American entertainers to "cross over," whose skin-color was secondary to his amazing talent in an America that was severely racially divided. It allowed him socially acceptable access to the upper echelons of American society that were highly restricted for a person of color. While he rarely publicly politicized his race, often to the dismay of fellow African-Americans, he was privately a huge supporter of the Civil Rights movement in America.
Description above from the Wikipedia article Louis Armstrong, licensed under CC-BY-SA, full list of contributors on Wikipedia
---