The long-awaited third season of 'True Detective' arrived on these shores last night on Sky Atlantic with a gripping double-bill that ensured viewers are already counting the days until the next installment.
Within about twenty minutes it was already clear that this show was miles ahead of its disappointing second season, which had so many different themes and plot points, I'm struggling to even remember what it was about. Season one, on the other hand, was a critics darling, with both Woody Harrelson and Matthew McConaughey winning high praise for their performances. Creator Nic Pizzolatto was then under pressure to deliver more, and he did, but even HBO admitted, season 2 was rushed and it paid the price for it.
This third season goes back to its roots - we've got partner detectives attempting to solve a disturbing crime with a story spanning over the course of four decades. Mahershala Ali and Stephen Dorff take on the lead roles this time around, and they may as well just give Ali all the awards right now. The Oscar-winning actor's thoughtful and measured portrayal of Detective Wayne Hays holds such gravitas that it carries the show to whole new heights. He seamlessly goes from playing a younger man in the throws of the biggest case of his career to an older gentlemen grappling with Alzheimers and still struggling to make sense of this monumental time in his life.
Interestingly, Ali has previously said how he was initially offered a supporting role in the series but convinced Pizzolatto that he should take the lead. Speaking during Variety's Actors on Actors, Ali said: "I could've played that second lead, that supporting career. But in my mind, I was like, 'I've done this my entire career though. I've never done that'. At that time, I'm 43 years old. If it don't happen now, it really may not happen."
To convince Pizzolatto, he texted him photos of his grandfather, who was a state police officer in real life. "I was like, 'See, we existed in this space. In the '60s and the '70s. State police officers,'" Ali said. "I was like, 'I think your story would be served, I think the story would be improved in this case, if this lead character was black.'"
Ali argued, that with him in the lead, the show could address the ways a black detective would experience racism in 1980's Arkansas. The show does this in the opening episodes but with a degree of subtly that leaves it as an underlining, unsettling theme. "What's it like for you here?" Hays asks school teacher (and his future wife) Amelia Reardon, played by Carmen Ejogo. And it's clear what they are talking about. Or how in 2015, the documentary maker attempts to surmise Hays' reasons for leaving the force with a millennial PHD interpretation of events.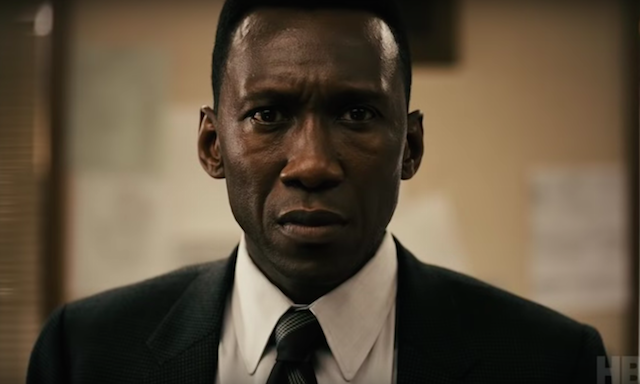 What a mistake it would have been to sideline Ali though, his performance alone could carry a much poorer show. Thankfully, Pizzolatto delivers with a gripping plot that gets its claws into you early on. It follows a case of two missing children, 12 and 10-year-old siblings Will and Julie Purcell, who disappear while out cycling their bikes one evening. The case and the direction it takes rocks the Arkansas town to its core, which we hear about from Hays in a deposition ten years afterwards as well as a much older Hays in 2015 who is recounting the case to a TV crew behind a documentary series called 'True Criminal'. Yes, it's very meta altogether.
It's a smart move by Pizzolatto though. To capture the ever growing fascination we have for true crime documentaries, giving us the birds-eye view of how a case unfolds and the mistakes that can be made early on that can have far-reaching consequences, as you armchair detectives out there know so well.
The final moments of episode one brought us the discovery of Will's body, made by Hays, who found him with his hands in prayer and surrounded by strange occult-looking dolls. So far, so 'True Detective'. It's enough to secure an audience for its second episode, which saw the detectives further investigate the obvious suspects, including a paedophile who had moved to the area.
Ultimately though, we know from future timelines that the wrong person was convicted for Will's murder, and not only that, but Julie Purcell is still alive, according to a set of fingerprints found on a crime scene in 1990. There's also the issue of Hays' Alzheimer's which can't help but throw a lot of what he remembers into question.
The pieces are very much up in the air but there's enough being drip-fed here to keep the pace of what looks set to be an intriguing and unpredictable tale that may just do enough to reach the great pedestal season one of 'True Detective' sits at. At the very least, it will help wipe the memory clean of season two and redeem the tattered reputation of what was once a ground-breaking TV show.