In football, evolution often wins out over radical revolution.
In the latter days of Sir Alex Ferguson's historic reign in charge of Manchester United, the Scotsman delegated to his assistant Mike Phelan on tactical advice, with Phelan's suggestion of modifying the classic 4-4-2 formation delivering the club their 3rd European title in 2008.
We fear that 'Football Manager' has taken that parable to heart, and the management series is starting to tread water.
Ever since 'Football Manager' added more of an emphasis on data analysis in the last two entries in the series, very little has changed, and this could spell trouble for the legendary timesink.
Let us be clear; 'Football Manager' is still as addictive as ever, in our review period we gladly sunk 100 hours into a save that saw us take Burnley to the Champions League final and Ireland to the semi-finals of the World Cup, but this year's edition of the game is very much like that classic lyric by The Who: "meet the new boss, same as the old boss."
The total lack of change to the international management system is baffling considering how the World Cup is around the corner, and it leads to absurd situations where players who play together every week in a specific formation completely fail to grasp it when they play internationally.
International management having basically nothing changed is incredibly frustrating, and this was an open net that Sports Interactive blasted into row Z.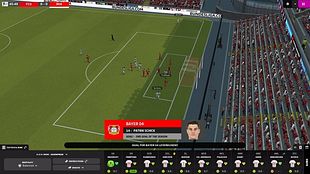 Long-term fans will not be surprised to hear that the press conference mechanic is as pointless as ever and adds essentially nothing to the process.
For the sake of experiment, we launched into a foul-mouthed tirade that would make Lenny Bruce blush following a controversial offside decision, and in real life, a manager swearing up a storm in a press conference would get them in trouble with the FA.
The game didn't acknowledge it, and instead, the headline focused on our manager saying that the team was on a good run of form.
The lack of innovation from Sports Interactive is something we smack other developers down for - it's not acceptable for the likes of EA or Ubisoft to trot out another yearly entry with very little to justify the price tag, so Sports Interactive shouldn't get special treatment.
The Champions League and Europa League has been fully licensed this year, and hearing the famous Champions League music does really sell the fantasy you are leading out your team to do battle with Real Madrid, but this is all set dressing.
UEFA's attempt to remix the existing group stage formula is there to endure (we would say enjoy, but that implies we have anything nice to say about it) but when the big innovation for the game is something that is designed to annoy people in real life, the game has little to show for it.
The draw mechanic has also been slightly jazzed up, so you can have the likes of Rui Costa host the Champions League group draw and offer colour commentary like you see on TV, and it is fun to imagine the camera cutting to you furiously scribbling notes as you're drawn in the same group as Inter Milan, but 'Football Manager' has now reached a point where it's only adding cosmetics instead of actual improvements.

When your big innovation is something that can be shrugged off as "well, that's nice," you question the merit of putting out another game and charging consumers full price for it.
A lazy attempt to introduce fan dynamics such as your team seeing an influx of fair-weather fans after a trophy win and a boost in social media followers is so unnoticeable that it feels like a last-minute addition.
The classic 'Football Manager' magic is still there - as stated, the game is still the best in the world for melting away the hours - but you could just as easily go on Steam and download a 2022 squad update for the last few games in the series and still play largely the same game.
The 'Assassin's Creed' franchise has hugely benefited from taking some time off to reassess how they can improve and deliver a brand new game that isn't merely repeating itself, and at this stage, we now wonder if Sports Interactive could benefit from taking a year off to get 'Football Manager' back into title-winning form.
We know the answer, the series is too successful and makes too much money for this to be an option, but if the next 'Football Manager' includes a prawn sandwich as a pre-order bonus, don't say that we didn't warn you.