Al Pacino has stated that he wants Timothée Chalamet to play Lieutenant Vincent Hanna if there was ever a film sequel to 1995's 'Heat'.
Co-star Robert DeNiro joined Pacino at a special (delayed) event celebrating Michael Mann's crime drama's 20th anniversary at the Tribeca Film Festival.
During a boisterous Q&A session, Pacino was asked who could potentially play his character in a second film. The 82-year-old responded with, "Timothée Chalamet. I mean, he's a wonderful actor. Great looks."
Chalamet, as it turns out, may just be in luck. Michael Mann, who couldn't attend the Tribeca event due to a positive Covid test, is releasing 'Heat 2' on August 9, in the form of a book. There's bound to be plenty of chatter about a possible film adaptation upon release.
The follow-up book will trace the lives of master criminal Neil McCauley (Robert De Niro) and Pacino's obsessive detective Lt. Hanna before and after the events of the 1995 film.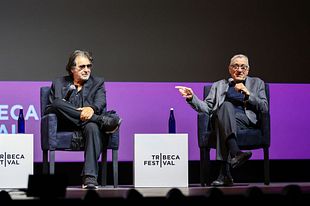 "The idea of these two starring in this film is something that almost anybody would say, 'That's a good idea,'" said producer Art Linson, who joined the two legendary actors at the event.
When asked if there was any preparation involved for their roles in the film, DeNiro replied with a smile, "I robbed a few banks."
The final question of the night was on the subject of whether a film like 'Heat' could still be made today. Pacino replied, "Netflix made 'The Irishman,' so it's doable but it's still hard.
"I would think that Netflix, Amazon or one of them could make a big picture like 'Heat' and they'd be willing to do it also."
There's hope for Chalamet yet.