Cameron Diaz has been on a break from Hollywood since 2014, and judging by comments she made on Michelle Visage's podcast, she doesn't look ready to return to our screens anytime soon.
Diaz, best known for the 'Shrek' films as well as hits such as 'There's Something About Mary' and 'The Holiday', has been on a break from acting since 2014.
Discussing her career with Michelle Visage, Diaz said that the Hollywood system was a "trap" and that working within the industry left her feeling "maxed out."
"I personally for myself, looking at what came along with my position in Hollywood, I kind of maxed out."
"I feel like I did it all, but I haven't done this thing (raising a family) which is what I'm doing now."
Diaz has been married to Good Charlotte member Benji Madden since 2015, and the couple welcomed their first child in December 2019.
Discussing why she stepped away from films after 2014's 'Annie', Diaz said "I just go back to the trap of it all, especially in our society, like what we value, what we think is important… look if it's important to you, that's fine."
"No judgment, if that's what really gets you up in the day, if that's what you need, then that's great."
One of the biggest box office draws of the 1990s and 2000s, Diaz stepped away from acting in 2014 and hasn't made a film or television show since, but has pivoted into a successful career as an author and speaker, as well as launching her own organic wine brand in 2020.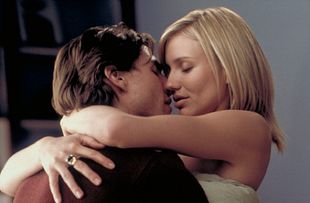 Speaking in 2020, Diaz said, "it was so intense to work at that level and be that public and put yourself out there."
"There's a lot of energy coming at you at all times when you're really visible as an actor and doing press and putting yourself out there."
"When you're making a movie, they own you. You're there for 12 hours a day for months on end you have no time for anything else."
Diaz also discussed the #MeToo movement on the podcast, saying that the Hollywood of 2022 is markedly different to the industry she started out in during the 1990s.
"The early 1990s, there was still like heavy, heavy misogyny and the level of exploitation of powers was just laid on the entire industry."
"It was the normal thing to be the one who participated enough to make everybody feel taken care of, but not to be a victim," she recalled.
"We are in a different time right now, thank God, especially for women."
"Thank God we live in a time now where we can say 'that's actually way out of line', back then you couldn't because you would lose a job and I'm not condoning it in any way, it's just the way that it was," she added.
You can listen to the full interview with Diaz on Michelle Visage's new podcast, available on BBC Sounds.