It's been just over a year since Fontaines D.C. released their critically acclaimed debut album 'Dogrel'.
That album saw the Dublin band traverse the globe, play some high-profile gigs and TV appearances and even bag nominations for both the Choice and Mercury Prizes.
Now, they're already preparing the release of album number two. It's called 'A Hero's Death' and will be released on July 31st.
The album artwork features an image of Cuchulainn and it apparently steps away from the punky influence of 'Dogrel', with the band citing influences including Leonard Cohen, The Beach Boys and Beach House this time around.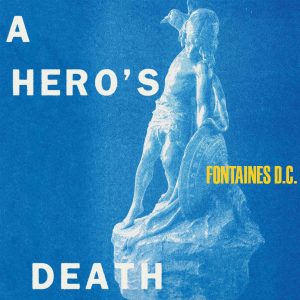 Frontman Grian Chatten explained: "The title came from a line in a play by Brendan Behan, and I wrote the lyrics during a time where I felt consumed by the need to write something else to alleviate the fear that I would never be able follow up 'Dogrel.' But more broadly it's about the battle between happiness and depression, and the trust issues that can form tied to both of those feelings."
Watch the video for the title track - which stars actor Aidan Gillen - below: