The Prime Video series has cast yet another star from a well-known fantasy/thriller franchise.
Jeffrey Dean Morgan, who plays Negan on 'The Walking Dead', has joined the cast of 'The Boys' season four as a recurring guest star.
Details about who Morgan will be playing currently remain under wraps, but taking his role in 'The Walking Dead' into account, we're guessing he might be yet another supe that'll cause some havoc for Homelander (Antony Starr), The Butcher (Karl Urban) and Soldier Boy (Jensen Ackles) in the new season.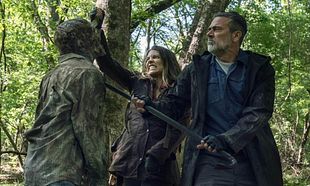 The actor replied to his future co-stars Jack Quaid and Karl Urban on Twitter, retweeting their reactions with "Let's GOOO!!" and "Man!! I can't wait!! We gonna PLAY!!"
Morgan joining 'The Boys' universe will mean that 'The Boys' showrunner Eric Kripke has recruited yet another 'Supernatural' alum under his wing for the fantasy series, following in the footsteps of Jensen Ackles joining the cast for season three. The actor previously portrayed John Winchester, the father of Dean and Sam, in a recurring role during the series' run.
While Jeffrey Dean Morgan has had a number of roles in TV and film over the years ('Grey's Anatomy', 'Watchmen'), it was his role in 'The Walking Dead' as initial villain Negan that saw his star profile get boosted. The character will also be front and centre in a spin-off series 'Dead City', which will see him and Maggie (Lauren Cohan) embark on their own zombie-filled adventure. Negan proved to be so popular that he even appeared in the 'Tekken' video game series.
'The Boys' season three finale aired this past summer, which ended with a new younger superhero joining Homelander in his egotistical rampage. The first live-action spin-off series from the franchise, 'Gen V', will premiere next year on Prime Video and will focus on superheroes-in-training and all of the mayhem that deadbeat college goers with superpowers can bring.