Less than a week after its release, the new Netflix series already has its sights set on what could happen if season two goes into production.
Currently the number one most-watched series on Netflix in Ireland, fans can't get enough of Wednesday Addams and her spooky Nevermore Academy adventure. But will there be a 'Wednesday' season two in the future? The series showrunner hopes it will happen, and that there will be more strange appearances from the macabre family.
While most of the series follows Wednesday (Jenna Ortega) as she gets to grips with her new high school surroundings, there are a handful of moments when her family joins in on the mysterious storyline too. Her mother Morticia (Catherine Zeta-Jones), father Gomez (Luis Guzmán), brother Pugsley (Isaac Ordonez), Lurch (George Burcea) and Uncle Fester (Fred Armisen) all make appearances to help move the story further along. Wednesday's relationships with each of them, particularly her mother and her cousin, are highlights of the show.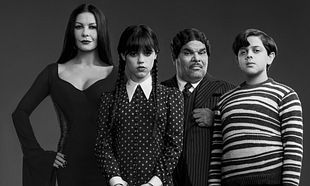 In a new interview with TVLine, 'Wednesday' co-creator and co-showrunner Al Gough has said he's going to introduce more storylines for the family members, should 'Wednesday' season two be commissioned.
He said: "We felt like we just touched the surface with those characters and the actors are so amazing in those roles. Catherine is, I think, an iconic Morticia. The relationship between Wednesday and Morticia is also essential to the show, and the idea that Wednesday is trying to forge her own path outside the family is important.
"[We] definitely want to feature the family as we did this season in a couple of episodes if we were to get a second season."
It's exciting to hear that there could be more Addams Family interactions on the way in future seasons, but we just hope that the Morticia and Gomez moments are more believable next time around - we didn't find Zeta-Jones or Guzmán's relationship as hypnotizing as it could have been. Failing that, they could just introduce Cousin Itt and Grandmama to distract us with new characters. Jenna Ortega, however, gives a stand-out performance as the perpetually sullen teen. Just look at this dance sequence if you don't believe us.