"I got him to the brink of a psychological break."
We've known for quite some time that Aubrey Plaza is delightfully deranged, but this latest story from her time spent shooting 'The White Lotus' season two in Sicily really takes her unpredictable nature to a whole new level.
One of the main stars of Mike White's second season of sublime fly-on-the-wall dramedy about rich people on holiday, 'The White Lotus', Plaza supposedly drove one of her co-stars to "the brink of a psychological break" because of her unhinged antics.
Adam DiMarco, who plays the youngest generation of the Di Grassos family this season, was the number one victim of Plaza's distressing pranks, supposedly arranging reed diffusers in "a large Blair Witch–style symbol" on the floor of his dressing room. Then, creepily, the same thing happened in Plaza's dressing room.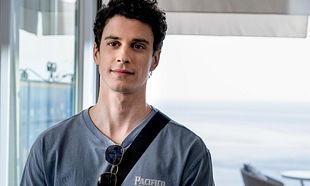 This bizarre story was brought up during her shoot with GQ Magazine published this week, with Plaza pretending that it wasn't her setting up this prank - even though hotel staff had recordings of her on CCTV doing the deed.
Plaza, however, "swore it wasn't her" and even blamed some of her other brunette co-stars. Then, even more alarmingly, papers with "ominous messages" that read "here lies…" were slipped under people's doors. Somebody call the police, we got ghosts up in here.
Plaza lied so well to DiMarco that he said he began to question his "reality for a while there". He added: "I didn't know who to trust. It was like 'Murder on the Orient Express'. Everyone was the murderer."
Plaza's comment on the matter was: "Adam was so innocent, like a baby bird. It was really sick, what I was doing to him. I got him to the brink of a psychological break." And then we presume she laughed maniacally.
But this isn't the first time that the goings-on of Aubrey Plaza caught the attention of Italians while filming 'The White Lotus', oh no. The star previously appeared on 'Jimmy Kimmel Live' with host Nicole Byer where she talked about the police following her around Sicily because of how unpredictable she was acting with her ferocious need to stock up on "weird grandma lamps".
Since her break-out role as April Ludgate in the sitcom 'Parks and Recreation,' Aubrey Plaza has quietly become one of the most sought-after actors in Hollywood. She recently joined the cast of Disney+'s Marvel series 'Agatha: Coven of Chaos' and she's also secured a main role in Francis Ford Coppola's new sci-fi 'Megalopolis'.
Her next big objective, however, is a passion project she's written herself. Her top secret family-friendly film, which she describes as being along the same vein as 'Hocus Pocus' or 'Beetlejuice,' is something which she hopes to direct in the future. "I'm trying to fill the female Tim Burton slot," she says. With her love for the spooky and the deadpan, as well as her strong affection for anything John Waters, we can't wait to see what happens next.
Watch 'The White Lotus' on Sky Atlantic and NOW.