*Spoilers for the season finale below*
Well, that's that. The 'House of the Dragon' finale has finally aired, ending the season in rather barbaric fashion - but we wouldn't have expected anything less.
Yes, cute little Lucerys and his dragon Arrax sadly did not make it back to Dragonstone after his encounter with Lord Borros Baratheon at Storm's End. His one-eyed uncle Aemond was waiting for him with his mammoth dragon Vhagar, first asking him to take out one of his eyes to make the playing field even. Luke managed to escape the encounter with all eyes in his head - but a quick chase on dragon's back proved less successful. It was at that moment that Aemond realized he f***ed up.
Rhaeynra, who had remained level-headed and stoic throughout most of the episode (apart from her unfortunate stillbirth), finds out from Daemon what has happened in the closing moments of the episode.
We don't think the (un)official Queen is going to stay quiet much longer from that devastating look she gives the camera.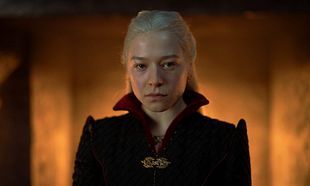 Lord Corlys Velaryon AKA The Sea Snake also returned to the series, which sparked the two Princes to head off to gain allies from their neighboring Lords and Ladies. Will Prince Jacaerys and his trip to the Vale and House Arryn prove as messy?
Ahead of the 'House of the Dragon' finale releasing earlier this morning on Sky Atlantic and NOW, HBO had an unfortunate mishap over the weekend whereby the episode leaked online accidentally. A statement released by the company said: "We're disappointed that this unlawful action has disrupted the viewing experience for loyal fans of the show."
Season two of 'House of the Dragon' will likely be the start of an all-out war between the feuding families. We've got "The Greens" in King's Landing - lead by King Aegon (but all of the string being pulled by Alicent and Otto Hightower - and feet-loving Larys Strong), and "The Blacks" in Dragsonstone with Rhaeynra, Daemon at el.
Here's how the episode went over with fans of the show.
Watch 'House of the Dragon' on Sky Atlantic and NOW.