It's been quite a long year for everyone. And so it's about time we got to sit back on the sofa, mug of tea in hand and a plate of biscuits in the other (or a selection box, no judgement here), and see how this year's festive madness unfolds.
The 'Late Late Toy Show' theme has finally been unveiled just hours before the show kicks off on RTÉ One, and yes, there sure is no place like home. Were you able to guess the theme out of all of the potential possibilities? We had our minds set on it being 'Disenchanted' with the year that's in it, but sure we hadn't a clue like the rest of the nation.
Yesterday, entertainment.ie was lucky enough to head along to Donnybrook to see the colourful set ahead of tonight's spectacular show - and you'll be happy to know that (even if just for a few minutes) we felt like kids all over again. Come on, only a few lucky ones across the country get to see it in the flesh every year - and this (finally!) was our year.
While we would have loved to have been able to showcase the latest Massy Ferguson kids tractor during what is always the most chaotic part of the entire 'Toy Show', we did get to have a walk around the beautiful set - and learn about the 'Toy Show' theme ahead of schedule.
And so, without further ado, this year's theme is... 'The Wizard of Oz'!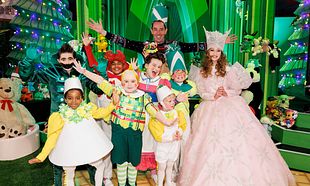 Host Ryan Tubridy said of this year's fantastical and classic theme that he and RTÉ wanted to bring it back to basics this year. He said: "I can't remember the last time I was this excited for 'The Toy Show' given the previews I have had of it this week. It is the thing that is close to the hearts of everyone who will be watching. Every age group, every generation, people will know from every walk of life where exactly we are going when we see the set-up on Friday night.  
"I promised we will be going home. I promised we will be talking more about Christmas, I promised we will get back to basics and when people see that opening, people will know exactly what I am talking about. Now it is time to simply get the treats in, to get the crisps in and the spirit back in the house and prepare yourself for what I hope will be the greatest night of the year for boys and girls all over the country because each and every one of them whether they are in hospital, at home or whether they are at their friend's house. Wherever they are, this is for them, they deserve it.
"I look forward to everyone's company immensely."
Here are a few more pictures of Ryan with his li'l munchkins during the press tour of the studio yesterday morning.
2022 marks Ryan's 14th year at the helm of 'The Late Late Toy Show', and as you can see from the beautiful set and costume design, there will be no place like home to watch this year's show. Expect the host and his gaggle of good witches to be on hand with a surprise or two in store for both the studio audience and the children who are set to feature. Let's hope there are some future John Joe Brennans ("A horologist") and Alex Meehans ("Any craic?" - "Níl") lined up to keep Ryan on his toes tonight.
With all of the excitement, it can be easy to forget about an important message surrounding the children's show of the past few years. 'The RTÉ Toy Show Appeal' is back for its third year, which provides support to over 160 children's charities. Last year, €6.8 million was raised. Donations can be made here or via the Revolut app.
Catch 'The Late Late Toy Show' somewhere over the rainbow at 9.35pm on RTÉ One. Watch worldwide for free on the RTÉ Player.