The podcast-loving trio are back for a second attempt at unfolding a new murder in their elite New York City apartment building The Arconia - but this time around it's maybe not as succinct as before. But, it's still enjoyable.
'Only Murders in the Building' season two picks up moments after that dramatic season one cliffhanger where Bunny Folger (Jayne Houdyshell) died in the arms of Mabel (Selena Gomez), with a knitting needle sticking out of her person. As you would imagine, a fresh police investigation is launched, with Mabel and her two associates Charles and Oliver (Steve Martin and Martin Short) being the prime suspects, and so begins another reason for the whole building to keep their distance from the trio (previously it was because of their annoying podcast).
Maybe it's because of the short gap between seasons one and two (ten months, it appears), but the follow-up to one of Hulu's biggest TV shows feels less refined than its debut last year. The script is more contrived than it should be at times, distracting us (and the main trio) from finding out who killed Bunny. However, we do get a better backstory about some of the hotel residents, Bunny included, which is a nice addition to the tale.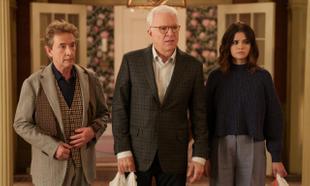 'Only Murders in the Building' season two is still a fun whodunnit to see unfold (well, we could only see up to episode six out of the ten), and the series still has that comedic charm between the main three characters (even more so than before), but something just feels a bit rushed about the whole production. It feels as if Hulu/Disney wished to get this out as soon as possible, knowing it would be a hit, but without taking the care to fine-comb the storylines and make the script that bit tighter, as it was before.
Martin, Short and Gomez deliver on their oddball group dynamic once again in effortless style, but this time around there's a clear frontrunner in the comedic value of the series - Martin Short's Oliver. As eccentric and over-the-top as ever, he really is the shining beacon of the season, delivering memorable moments whenever he's on screen. Charles, though he gets a hilarious career pick-me-up, is more dour than usual, due to the character nursing a broken heart from his crazy ex-girlfriend Jan (Amy Ryan). Mabel, who was more mysterious in season one, loses a sense of herself this season and Gomez's performance reflects this - her retorts to her senior friends don't land as well as they did before, and her subplot is hinged on a new love interest.
For those who are looking forward to seeing more celebrity cameos pop up, some familiar faces from season one will feature once again, including that truly horrific Tina Fey podcaster and of course Sazz, Charles' double, played by the wonderful Jane Lynch. Rounding out the cast list this time around are also Cara Delevigne, Amy Schumer and Shirley MacLaine. Although its interesting to see Delavigne be a series regular here, her character isn't all that likeable; and when all of the other characters are all quite lovable (even the ones you love to hate) for their melodrama and campness, she sticks out like a sore thumb for being a bit beige; Schumer, on the other hand, steps it up as a wonderfully delusional version of herself, and it works so damn well - we wish there was more of her.
At the end of the day, season two is more of the same, just not executed as well as it could have been. Maybe we're being biased because we had such high expectations coming off the back of season one, but we were hoping for the stakes to be raised a lot more than they are here. Having said that though, this is still a very enjoyable ride to go on with the three amateur crime-solvers, and we 100% recommend tuning back in - even if it's not as big or as bold as we were expecting.
'Only Murders in the Building' season two begins on Disney+ with a two-episode premiere on Tuesday, June 28.